Research article
Open Access
Open Peer Review
This article has Open Peer Review reports available.
Hidden consequences of olfactory dysfunction: a patient report series
BMC Ear, Nose and Throat Disorders
2013
13:8
Received: 25 March 2013
Accepted: 15 July 2013
Published: 23 July 2013
Abstract
Background
The negative consequences of olfactory dysfunction for the quality of life are not widely appreciated and the condition is therefore often ignored or trivialized.
Methods
1,000 patients with olfactory dysfunction participated in an online study by submitting accounts of their subjective experiences of how they have been affected by their condition. In addition, they were given the chance to answer 43 specific questions about the consequences of their olfactory dysfunction.
Results
Although there are less practical problems associated with impaired or distorted odor perception than with impairments in visual or auditory perception, many affected individuals report experiencing olfactory dysfunction as a debilitating condition. Smell loss-induced social isolation and smell loss-induced anhedonia can severely affect quality of life.
Conclusions
Olfactory dysfunction is a serious condition for those affected by it and it deserves more attention from doctors who treat affected patients as well as from scientist who research treatment options.
Keywords
OlfactionQuality of lifeAnosmiaPhantosmiaParosmiaAnhedonia
Background
Two recent patient memoires describe vividly the often unanticipated consequences of changes to one's sense of smell from the patient's perspective [1, 2]. Olfactory perceptual changes can be quantitative (smell loss) or qualitative (smell distortions). Smell loss can be partial, a condition called hyposmia, or total, a condition called anosmia. Patients with partial smell loss often also suffer from distorted olfactory perception. Distorted olfactory perception can be subdivided into parosmia (distorted olfactory experiences in the presence of an odor) and phantosmia (distorted olfactory experience in the absence of an odor) [for overviews, see [3, 4]]. Phantosmia and parosmia often co-occur [5] and parosmia is more common than phantosmia [5–8].
Olfactory dysfunction is a very common condition with a reported prevalence between 4 and 25% [9–12]. Men are more likely to suffer from it than women [13, 14] and smoking [9–11, 15–17], working in a factory environment [18], low level of education [19], and having a low household income [9] have been reported as risk factors. Olfactory dysfunction, like visual and auditory impairment, becomes more prevalent with increasing age [12, 20]. Of those who suffer from smell loss, between 10 and 60% also have distorted olfactory perceptions [5, 8, 21, 22]. Distorted perception is more common when the smell loss is less severe [22].
There are many causes of olfactory dysfunction [for an overview, see [
23
,
24
]]. The three most common causes are sinonasal disease, upper respiratory infection, and head trauma (Figure
1
). Sinonasal diseases like nasal polyps or chronic inflammation of the nasal passages and/or paranasal sinuses (rhinitis, sinusitis, rhinosinusitis) are the most common cause of olfactory dysfunction (Figure
1
) [for an overview see [
30
–
32
]]. Chronic inflammation in the nose and sinuses is the most common chronic medical condition in the United States of America [
33
–
35
] and more than half of the affected individuals have olfactory symptoms [
36
]. The cause of the olfactory problems in sinonasal diseases is in many cases nasal obstruction. The second most common cause of olfactory dysfunction are upper respiratory tract infections that result in permanent damage to the olfactory sensory system (Figure
1
). As a consequence of the damage, smell loss will continue long after the infection and its other symptoms have subsided [for overviews, see [
21
,
37
,
38
]]. Patients with postviral olfactory loss often retain some smell capacity [
22
,
25
,
39
] and olfactory distortion is very common in these patients [
8
,
21
,
40
,
41
]. The third most common cause of olfactory dysfunction is head trauma (Figure
1
) [for an overview, see [
42
–
45
]]. Head trauma often leads to very severe olfactory loss [
41
] with sudden onset. In addition to the three main causes of olfactory dysfunction, surgical procedures [
46
] (both sinonasal surgeries [
47
] and other types of surgery [
48
]) can affect olfactory function. Some of these cases are likely due to side-effects of the drugs used for general anesthesia [
49
–
51
]. Other drugs can also have side-effects on olfactory function [
52
–
55
]. Similarly, toxic chemicals in the environment can damage the olfactory system [
56
–
60
]. Finally, around 3% of those suffering from olfactory dysfunction have congenital anosmia: they were born without a sense of smell (Figure
1
) [for an overview, see [
61
]]. In rare cases, olfactory perception can be disturbed due to processes in the central nervous system, as in epilepsy [
62
,
63
], migraine [
64
,
65
], Parkinson's disease [
66
], or schizophrenia [
63
,
67
,
68
].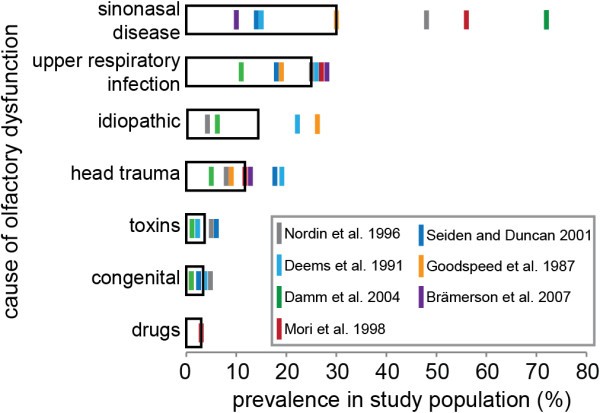 Not all cases of olfactory dysfunction are permanent. Partial spontaneous recovery has been reported especially in younger patients [69] and in patients with postviral olfactory dysfunction [69–71]. Remarkably, spontaneous recovery can occur years after the symptoms appeared [69, 71–73], but the likelihood of recovery decreases with the duration of smell loss [22, 69, 70]. Olfactory dysfunction caused by sinonasal disease usually fluctuates over time [25] and can be modulated, for example, by physical exercise [26] and hot showers [25]. If olfactory impairment is a symptom of sinonasal disease, then treating the underlying disease will often improve olfactory function. Among the treatments of sinonasal disease that have been evaluated for their influence on olfactory function are antihistamines [74], nasally and systemically administered corticosteroids [25, 75–79], and surgery [46, 47, 80–85]. For postviral and posttraumatic olfactory loss several treatments have been suggested [for an overview, see [54, 86]]. Zinc [87, 88], vitamin A [89], and the antibiotic minocycline [90] have been shown to be ineffective in placebo-controlled studies. α-lipoic acid [91] and the phosphodiesterase inhibitors theophylline [92, 93] and pentoxifylline [94] have not been tested in placebo-controlled studies yet. Peroral caroverine, an N-methyl-D-aspartic acid (NMDA) receptor antagonist [88], as well as sodium citrate nasal spray [95] have been shown to be effective in placebo-controlled studies. In addition to drug treatments, acupuncture [96–99] and olfactory training [100, 101] have also been investigated. It is likely that any successful treatment of smell loss would also improve the associated symptoms of distorted olfactory perception. However, some treatments, like the surgical excision of olfactory sensory neurons [3, 102, 103], bilateral olfactory nerve sections [104], and repetitive transcranial magnetic stimulation [105] have been specifically targeted at smell distortions.
None of the treatments that have been investigated are in wide use and in most cases olfactory dysfunction is untreatable. This is unfortunate because the disease burden of olfactory dysfunction is high [for an overview, see: [106–108]]. Quality of life in patients with olfactory impairments is reduced compared to matched controls [108] and patients in which the condition improves report a higher satisfaction with life than patients in which the dysfunction persists [109]. Practical problems of olfactory dysfunction include difficulties avoiding hazardous events [110] and the struggle to maintain healthy eating behaviors [70, 111–113]. Without a sense of smell, natural gas leaks [109, 110, 114], fires [109, 110, 114, 115], and hazardous chemical vapors [115] cannot be detected. Similarly, it is more difficult for these individuals to detect spoiled food [70, 109, 110, 114]. In addition, food intake has been reported to be affected by olfactory dysfunction. Some patients report losing weight after losing their sense of smell, while others report gaining weight [112, 113]. Weight gain is more common [112]. Both weight gain and weight loss seem to be a consequence of food being less enjoyable in the absence of olfactory input [70, 112, 115]. In most subjects, in addition to the change in how much food is consumed, olfactory impairment also induced a shift in food preferences. Taste and mechanosensation have to compensate for the lost olfactory input and as a consequence spicy food becomes more attractive [112, 116, 117].
The practical problems of not being able to sense the odorous environment are exacerbated by smell loss-induced social isolation. The social problems that the condition causes for relationships with friends, colleagues, family members, and romantic partners [27, 118, 119] are partially a consequence of social insecurity caused by worries about undetected body odor and partially a consequence of frustration over the perceived lack of sympathy for the patients [120]. Interactions with medical service providers can also be a source of frustration. One study showed that in Germany and Switzerland, 25% of patients felt that they had not been managed well and 6% felt that their condition had been trivialized [121].
In addition to practical and social consequences, olfactory loss also correlates with reduced ability to experience pleasure and motivation to engage in pleasurable activities: smell loss-induced anhedonia. Smell loss-induced anhedonia is the least-appreciated consequence of smell loss because affected individuals are often not aware of the connection between their olfactory dysfunction and the reduced enjoyment of formerly enjoyable activities. Although the mechanism is unknown, there is a correlation between smell loss and depressive symptoms and mood changes [22, 70, 115, 118, 120, 122].
Distorted olfactory perception is even more detrimental to the quality of life than smell loss [3, 4, 22, 123]. In one study, over half of the patients with distorted odor perception reported that their condition severely affected their quality of life [40]. Leopold and colleagues write about phantosmia patients that "it is usual for the patients to have thought about suicide because they had been offered no hope for resolution…" [102].
In this paper, the collected first-person accounts from 1,000 patients suffering from olfactory dysfunction confirm that severe consequences of this condition on life style and life satisfaction are common.
Methods
Between 10/16/2009 and 08/08/2012, subjects submitted their experiences with olfactory dysfunction online under the IRB-approved protocol NYU-SoM 09–0226. One thousand subjects were selected for inclusion in this paper. For edited versions of the one thousand reports, see Additional file 1. The free-form reports were not analyzed quantitatively. Excerpts of the reports are used as examples. However, in addition to submitting the free-form reports, subjects were given the chance to complete a questionnaire and the responses to this questionnaire have been quantified. A 43-point questionnaire that asked questions about specific aspects of life that are known or suspected to be affected by a change in olfactory acuity has been used. The questionnaire was adapted from the one used by Frasnelli and Hummel [123]. The complete results of the questionnaire, which was completed by 725 of the 1,000 subjects are shown in Additional file 2.
All the participants in the study gave informed consent. Due to the fact that this was an anonymous online study, they consented by responding with "I agree" in response to the question "By submitting your story you give us the right to use your story for our research and to include it in research presentations and in publications". The subjects were from 64 different countries. Because the website was in English, most reports were from English-speaking countries (Figure
2
a). Sixty-two percent of the subjects who reported their gender were female and 38% male (Figure
2
b). Almost three quarters self-identified as White or Caucasian (Figure
2
c). The subjects range in the age at which they submitted their report from 6 to 85 with a median of 52. The median age of onset of the problems was 46, with a range from 0 to 83 (Figure
2
d). Fifty-nine percent of the subjects had previously seen a doctor for their olfactory dysfunction (Additional file
2
). A third to half of the subjects reported experiencing smell distortions in addition to smell loss (Figure
2
e). For full methods see Additional file
3
.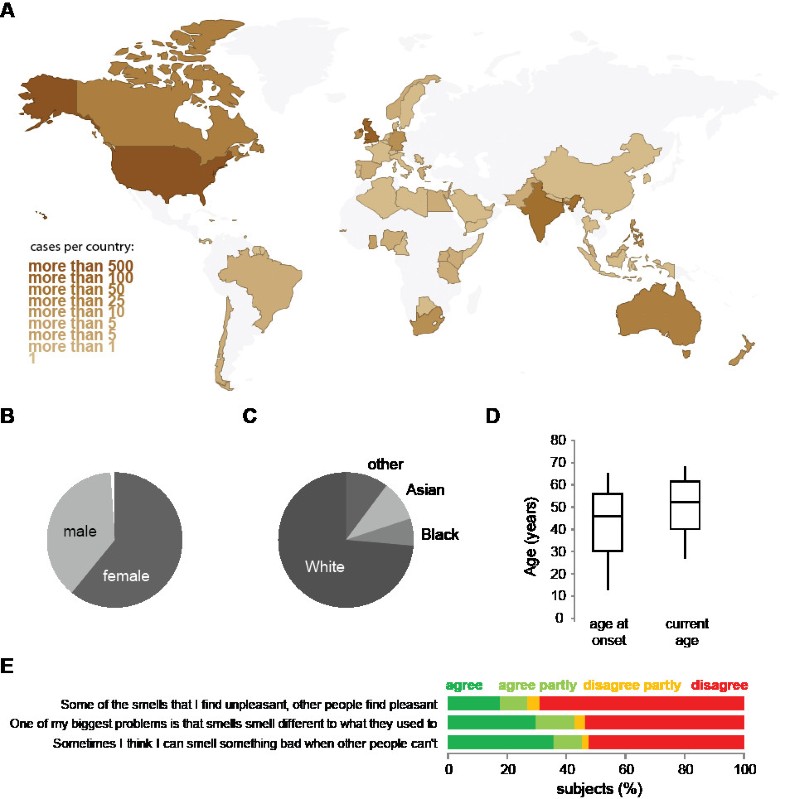 General discussion
The patient reports evaluated here show that olfactory dysfunction has a severe impact on affected individuals. This is in contrast to the low importance usually assigned to olfaction. In a survey amongst Canadian college students, for example, smell was ranked as the least important sense [143] (page 106). In the "Guides to the Evaluation of Permanent Impairment", published by the American Medical Association [144] a person's impairment due to several conditions is quantified. A complete loss of the sense of smell is suggested to be a 1% to 5% impairment. Deafness is a 35% impairment and blindness an 85% impairment. Smell loss is considered much less severe than the loss of the other modalities because: "Only rarely does complete loss of the closely related senses of olfaction and taste seriously affect an individual's performance of the usual ADLs [activities of daily living]. For this reason, a value of 1% to 5% impairment of the whole person is suggested…" (page 270). "Activities of daily living" include bathing, feeding, eating, personal hygiene, and sexual activity, activities that are shown here to be seriously affected by olfactory loss. Distorted olfactory perception is not discussed at all in the "Guides to the Evaluation of Permanent Impairment", although tinnitus, the perception of sound in the absence of an external stimulus, is considered to be a 5% impairment because it interferes with "sleep, reading (and other tasks requiring concentration), enjoyment of quiet recreation, and emotional well-being" (page 248). The reports in this paper show that in some cases a constant unpleasant smell also interferes with these activities.
It has to be noted that collecting patient reports online has two major limitations. First, it is likely that the reports collected here are not representative. The more severe the consequences of the olfactory dysfunction are experienced, the more likely is the affected individual to participate in a study about the condition. Because the subjects of this study are self-selecting and not necessarily representative, it is not possible to derive statements about the percentage of the total population of patients with olfactory dysfunction who experience any of the discussed consequences. This, however, is also true for studies of the consequences of olfactory dysfunction that enroll those patients that seek medical help for their condition (for example [27, 108–110, 115, 123]). In fact, the barrier for participation in an online study like the one presented here is presumably lower than the barrier for participation in studies at smell clinics. Many affected individuals will be motivated enough by their condition to fill out an online survey, but not motivated enough to schedule an appointment and visit a smell clinic during office hours. An additional advantage of an online study is that there are fewer geographical and economic barriers to participation than to a study based at a smell clinic.
The major disadvantage of an online study compared to a study at a smell clinic is that the patient reports in an online study cannot be verified. This is the second major limitation of this study. Self-report of olfactory function in healthy individuals is notoriously unreliable [145, 146] and although individuals with functional anosmia are generally aware of their impairment [147], the actual extend of olfactory loss in the subjects of this study is unclear. Similarly, the accuracy of all other information provided by the subjects anonymously cannot be independently verified. Confabulations by the subjects are also possible in studies in smell clinics, but olfactory function can be assessed objectively in these studies and the accuracy of basic facts about the subject such as age and gender are also more reliable. Furthermore, the higher entry barrier of smell clinic-based studies results presumably in more reliable data. It is easier to imagine that somebody mischievously submits wrong information to an online survey than that somebody takes a day off and drives to a smell clinic to lie about their condition there. Regardless of these limitations, the current study illustrates vividly the diversity and severity of the consequences of olfactory dysfunction.
Conclusion
Olfactory dysfunction, although it is often ignored or trivialized, can have severe consequences for those affected by it. While the practical problems of olfactory dysfunction are dwarfed by those of visual impairments, smell loss-induced social isolation and smell loss-induced motivational anhedonia have outsized detrimental effects on the quality of life of these patients.
Better educating the patients, the public, and medical professionals about disorders of olfaction would improve the quality of life for those affected by reducing the practical and social problems they often face. However, a comprehensive solution can only be provided by research into an effective treatment.
Declarations
Acknowledgments
We would like to thank all the subjects who took the time to share their stories as part of this study. We are grateful to Conor McMeniman, Leslie Vosshall, and Jessica Keiser for comments on earlier versions of the manuscript. AK was supported by a Branco Weiss Fellowship from the Society in Science Foundation and by a NARSAD Young Investigator Grant. DM was supported by the National Institute of Mental Health (R01MH066428).
Authors' Affiliations
(1)
Laboratory of Neurogenetics and Behavior, Rockefeller University, New York, USA
(2)
Department of Psychiatry, New York University School of Medicine, New York, USA
(3)
Creedmoor Psychiatric Center, New York State Office of Mental Health, New York, USA
Copyright
© Keller and Malaspina; licensee BioMed Central Ltd. 2013
This article is published under license to BioMed Central Ltd. This is an Open Access article distributed under the terms of the Creative Commons Attribution License (http://creativecommons.org/licenses/by/2.0), which permits unrestricted use, distribution, and reproduction in any medium, provided the original work is properly cited.